In this episode, Kyle sits down with Jac Harrison, a grammy nominated music producer. Kyle and Jac talk about music as therapy, how DMT mimics the near death experience, and how Jac produces music based on frequencies of mystical experiences.
3 Key Points:
Jac shares his story about his near death experience, and how DMT has been a therapeutic option for him to cope with his crippling anxiety and PTSD.
Jac is a music producer, who uses frequencies from mystical experiences to produce music. His music helps people with addiction, sleep issues, anxiety, and more.
Music is not an FDA approved medicine, but if there is music that tricks your mind into thinking you have taken a medicine, then it should be an option for those suffering.
---

Support the show
---
Show Notes
About Jac
In 2008, Jac was newly married with a baby on the way
He needed a new job, and accepted one with Whole Foods Magazine
Around 2011, the owner of the company became ill, and gave his company to his daughter, who was awful
Jac said that he knew something had to change
He started his music career, went under a lot of stress, and went through a divorce

Everything started to go okay with his music career, money was pouring in
His first album was Musicians Collection Project

He had a ton of anxiety after the divorce, and had high blood pressure

He took some cold medicine, on top of his blood pressure medicine, totally forgot about it, then decided to have a glass of wine with a friend
The next thing he knew, he was in an ambulance getting his chest pounded on
They told him he was in and out all night, and practically died

After this near death experience, he felt amazing!

But the feeling of greatness only lasted about 3 weeks, and then his anxiety came back, and it was crippling
A Synchronistic Event
Jac says he doesn't believe in magic or witchcraft or any woo woo
For his 39th birthday, he was working a trade show
He ran around his hotel in Las Vegas, screaming that he felt he was going to die

He didn't know how, but he could feel it
Everyone thought he was crazy

Moments later, was the shooting right outside of his hotel

It was the Las Vegas shooting

He does believe in coincidence

He had this overwhelming feeling that something bad was going to happen, it was his intuition
Understanding the Experience
After trying to figure out what this all meant, he took a 2000mg bar of chocolate to blast off, trying to relive his near death experience

He said, there was a lot of frequency, and as a musician, he felt like he could mimic it
His first album, and first song on the album, Relief, was about his experience when he died
His music is found at MindToyBox
Each song he did after that, catalogs the DMT experience he had

"An old projector TV, I had one for a while, it was great. The light came on and told me I needed to change the bulb. I changed the bulb and saw in a new and clear way forever. That's what DMT is like." - Jac
Kyle says that when he attended COSM for the DMT Spirit Molecule release party, Rick Strassman was there and said that the idea that DMT comes out of the pineal gland is just a hypothesis, and people took it and ran with it as truth
Frequency for Healing
After he smoked DMT, he heard this humming, and so he started humming and recording it as a frequency for the album
He took opium, and then figured out the frequency that substance performs at

He wrote music, based on the mathematical equation on how opium works and releases
He says it has helped others detox off of opium

Jac cant take mushrooms because he is allergic, so he takes DMT
Jac worked with a man who had gone through a ton of trauma, he had gone through combat

He kept reliving his combat trauma when he would try to go asleep
He smoked DMT, and really relived the experience, and was able to let go of it after that
"Your mind is a bitch." - Jac
"If you can lock onto a memory, and dissociate it with something, and re-associate it with something else, Every time you can go back to that memory,you can relive it in a way that it's tolerable, and get over it."

- Jac

Jac says without this, he would not be able to function, and he would be institutionalized
Jac's music is Alex Grey's form of art creation
It is made to go with journeywork experiences

It is supposed to mimic taking a pill, so you don't need to take the actual pill
It is supposed to guide people when taking different psychedelics
His tracks match the frequency of specific psychedelics
Malta Hypogeum
The Malta Hypogeum, the oracle chamber, is a cave with naturally occurring frequencies
Raymond Reif is an underestimated person in history

He beat cancer using frequencies in the 30's and 40's

"If we're not going to someone to get drugs for something that we need drugs for, and solving our problems using plant based medicines, music therapy, and frequencies, we are much better off." - Jac
Jac came across psychedelics when trying to treat crippling anxiety

Kyle is the first person he has told this NDE story to

Alzheimers is not a neurological problem, it's a perception problem

Psychedelic medicine should be used for research to treat cognitive health problems, PTSD, alzheimers, etc

"If the earth gives us something for our body, we should be able to take that at the same time we are able to take modern medicine." - Jac
Jac says that he started doing this type of work as more of an Atheist, and after the psychedelic experiences, he says he has become more spiritual
Intuition
Jac says that his intuition and discernment came after his near death experience

Kyle says that this happens after mystical experiences, we become more in tune with what is going on around us
"I believe that we have something in us, that is triggered, when we have a fear of death." - Jac
Final thoughts
Jac recommends Relief as the first track for listeners
He extends himself to people who are heavily anxious, have severe PTSD, or depressed, to come to him, and he will make music for them
He said that this is not medicine, but if there is music that tricks your mind into thinking you have taken a medicine, then it should be an option for those suffering
Links
---
About Jac Harrison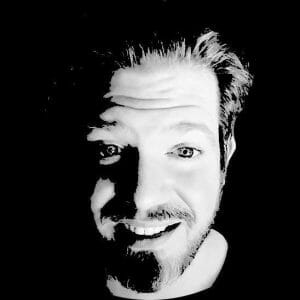 Having spent most of his adolescent life medicated to treat ADD/ADHD, Jac developed a dependency on the medications and could not function without them. When he stopped using them, his anxiety was so bad that he was diagnosed with PTSD in 2009; so he took his love for music with his understanding of mathematics and developed music to help himself get off all the medication. Mind Toy Box is the result of his work.