James Oroc is the Author of Tryptamine Palace and the New Psychedelic Revolution.
Show topics include Burning Man, visionary art, drug war, and politics around the 5-MEO-DMT experience.

3 Key Points:
James Oroc is cautious about the medicalization of psychedelics. He believes psychedelics do not necessarily heal sick people, but instead bring a new perspective to healthy users.
The 5-MEO-DMT experience is not like the typical psychedelic experience, not everyone should do it, and there are some serious negative side effects that could last for years if not integrated properly.
The Bufo Alvarius desert toad is at risk. With climate change and the demand for using them for their 5-MEO-DMT, there is a lot of pressure on their survival as a species.
---

Support the show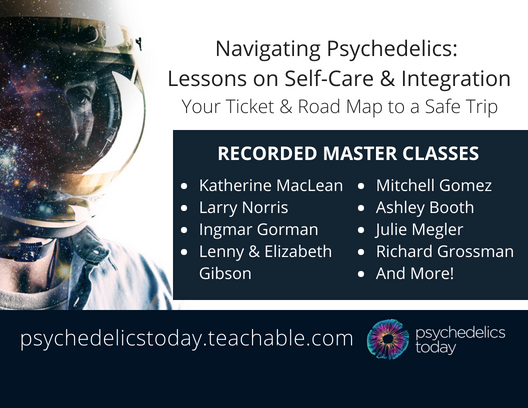 ---
Show Notes
About James
James has written a few psychedelic books, and is kind of a psychedelic icon

His interests are in noveling and extreme sports journalism
He wrote a book for Burning man, and gave away 500 copies at the festival
He is a world class paragliding competitor
He believes always being in nature is important
In the late 80's the psychedelic culture had crashed, except for the mountain towns, which is where psychedelic community ended up

Joe lives in the Rockies, and was hanging out in Aspen and ran into an old hippie deadhead who talked about skiing on mescaline, when everyone would typically ski on acid

In James new book he goes into psychedelics and extreme sports, about using a dose smaller than the psychedelic dose but larger than a micro dose

Joe references a movie, Valley Uprising, where most of the climbers would hang out on the side of a mountain face, party all night, drop a bunch of acid and then sprint to the top
James' Interest in Psychedelics
James says that 5-MEO-DMT converted him from to being a scientific, rationalist, atheist to agnostic, being merged and one with the god source, through the classic mystical experience

He says it took him multiple years to figure out how a 40 minute trip experiences shifted his entire perspective for the rest of his life
That's why he wrote his Burning Man book, as a way to help others relate to the experience and make their own sense of it

Joe says James Book is far more fascinating than Michael Pollan's Book, especially for people that have been in the psychedelic space for a while
Michael Pollan states in his book that LSD was given to Tim Leary by Alfred Hubbard, but James says that's not true, he says that a man by the name of Michael Hollingsworth gave LSD to Leary, after coming to America with a jar of mayonnaise full of LSD
James says its amusing for Pollan to form stories to fit his own narrative
He says Pollan has talked about using psychedelics only four times, and that he doesn't like the psychedelic culture and by using them we will become more depressed

James thinks depression is a result of the paradigm that we are in
"I don't like the idea of psychedelics being used as bandaids to help people except the current paradigm, I like the idea of psychedelics being dynamite, to help bring the next paradigm shift" - James
Smart people are depressed because they are realizing we are screwing this planet up, and we may not have that much time left on it
He called it 'extinction denial' in his last book, and after writing his last book in 2009, its gotten exponentially worse
Joe asks James why he thinks people are denying the extinction narrative
James replies saying people feel like they can't do anything about it, they worry about paycheck to paycheck, and get caught up in all the small distractions of life. He says no wonder people are depressed
Psychedelics aren't a Medicine
James thinks the only reason they didn't take hold as medicines in the 60's is because they were difficult to use, and didn't fit in the medical model

"The problem with medicalization is it puts psychedelics in one box, I'm more interested in giving psychedelics to healthy people than sick people"
They don't fall under the true classification of medicines
James thinks they should be called therapy, instead of medicine
He understands the interest of why people want to use them as medicines, but that shouldn't be the only way they are used

Joe adds that the medicalization doesn't mean rescheduling - via drug policy alliance

James says that last year alone had the most arrests for cannabis than any other year, even as more states are 'legalizing'
Joe mentions a comment from Brian Normand who runs Psymposia, "Is cannabis really legal, if you can only have 6 plants? It's just heightened regulation."
James thinks that keeping cannabis illegal in the south is the main tool for racial profiling, it's the gateway drug to prison

Brooklyn wants to release 20,000 cannabis offenders
America
James thinks living in America is like living in the belly of the beast

There are so many forces at work in the US, James thinks the best thing for the world would be for it to break up in a few smaller countries, although it's probably not going to happen

"It's not where you want to be, its where they'll have ya" - James

The data that John Hopkins comes up with is what we need to fight the cognitive liberty we should have to take psychedelics

Joe says Stan Grof became uninterested in the research of psychedelics and became more interested in visionary art

Creativity is what could help us survive
"Art could be the next religion" - Alex Grey
Reemergence of Spirit
James thinks we are in an interesting time in history, all of the models and structures are collapsing, we are getting to an individualized view of everything.
We have the right to create our own spirituality and religion. If we all go find what we find and then come together in clusters of like findings, that is a way for our spirituality to grow

Daniel Pinchbeck mentions cloistering up in small subculture communities focused on individual sub aspects of what interest you
Reemergence of spirit is important and can happen with the democratization of psychedelics
Psychedelics play a role in inner reality and outer reality
"Psychedelic perspective is the worldview that we take on as a psychedelic user, and its the perspective that the planet needs to survive. Whether as a society that we can shift to that perspective quick enough, is the issue. But the tools are in hand." - James
Burning Man
James tells a story of this wealthy CEO who attends Burning Man, and gets back and realizes he's a rich asshole and starts contemplating how he can make his company better for the world and be better to his employees

Burning Man has a lot of potential like psychedelics do, but it was easier back then Burning Man has blown up and isn't what it used to be

These highly impactful experiences are more influential when they are small

Boom, a festival in Portugal is a free environment because everything is legal, there is no paranoia

Burning Man used to be free, but because things are still illegal, it has more of a defensive posture now
There are so many resources, police, undercovers, put into Burning Man for how little of crime that happens

Joe says its a means to scare the people

There's a report that the administration put out recently that agreed that climate change is happening but they don't want to do anything about it
Psychedelics
James says he is a very interested observer to see psychedelics 'come out of the closet'
Is medicalization a means to take the fangs off of the drug war, or take power away from the psychedelic culture?

James says medicalization is just a financial opportunity
MDMA is leading the push toward legalization

US Military is super interested in MDMA because of the PTSD
Drone operators suffer from depression when they realize they are bombing people they've never even seen
But the MDMA could keep these operators at the desk
History of government's involvement in psychedelics
Robert Forte - The Dark History of Psychedelics
MK Ultra did happen
John Perry Barlow - founder of EFF Electronic Freedom Foundation
John Gillmore - had the largest civil suit against the US govt. for phone tapping
If you have an intense psychedelic experience, take some time and integrate it

"The first place you go after a major psychedelic experience is the library"

James says 5-MEO-DMT was the greatest intellectual adventure of his life

He couldn't grasp the concept of quantum physics, after 5-MEO-DMT it was one of the only things that made sense

Alexander Shulgin - plus four

James had a paradigm shift after the first time smoking 5-MEO-DMT
He says 5-MEO-DMT is extremely powerful, he doesn't do it as much anymore, because he appreciates how powerful it is
He also believes that it's wrong for 'shamans' to take the drug while facilitating
LSD is considered not powerful because its been dialed down

People don't take the same dose that people used to in the 70's

Every community should have its own psychonaut
James thinks people should not start with 5-MEO-DMT, but start with something less intense like mushrooms and a walk in the woods

Joe did a lot of holotropic breathwork before taking psychedelics
So many people go right to ayahuasca because they are out of the psychedelic culture and are being advertised to
James is annoyed with people calling drugs medicine out of context, like at a festival
He thinks toad is a sacrament, or therapy, not medicine. It hasn't healed anybody
He believes that the 'toad shaman' culture will be eliminated once chemists start to synthesize 5-MEO-DMT

The toads are coming from an overly populated desert, and with climate change, there is a lot of pressure on these species survival
Final Thoughts
James suggestions

The 5-MEO-DMT experience is unique, it's not like the typical psychedelic experience, not everyone should do it, and there are some serious negative side effects that could last for years if not integrated properly
Start with classic psychedelics like LSD or mushrooms, and go for a walk outside

Stan Grof's house/library burnt down, Terence McKenna lost two libraries, and Jonathan Ott's library burnt down. Decades of research burnt down
Check out this FREE online course, "Introduction to Psychedelics"
---
About James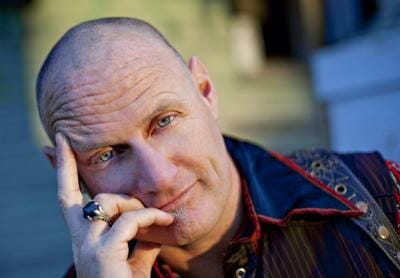 Journalist, photographer, and artist James Oroc was born in the small South Pacific nation of Aotearoa. Since 1998 he has been pursuing and reporting on the cutting edge of extreme sports in more than 40 countries around the globe, his work appearing in magazines, films, and on MTV Sports. He has been a member of the Burning Man community since 1999, and he is also involved in the documentation and advancement of "Alternative Culture."