Download
Rafael Lancelotta, the administrator of the site, 5meodmt.org (5 Hive), joins us to talk about the powerful psychedelic compound, 5-MeO-DMT. Some of you may have heard of this medicine, but if you have not, chances are you will begin hearing about it more and more. 5-MeO-DMT is a powerful psychedelic medicine that comes from venom secretion of the Bufo Alvarius toad. This compound is also found in various plants as well.
Correction - 5-MeO-DMT has an oxygen and a methyl group attached to it, not just an oxygen.
---
https://youtu.be/xtOiBiAL-K8
---
Show Topics
What is 5-MeO-DMT
How does it differ from N.N-DMT?
Near-death experiences and DMT
Dr. David Nichols talking about DMT at Breaking Conventions
Experiences of 5-MeO-DMT
The pros and cons of online forums
Risks and concerns
---
[youtube https://www.youtube.com/watch?v=YeeqHUiC8Io]
---
Show Links
---
About Rafael Lancelotta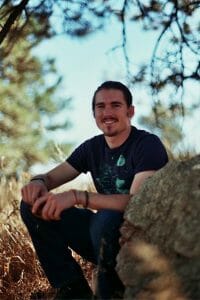 Rafael Lancelotta is a graduate student at the University of Wyoming studying Mental Health Counseling. He is interested in the use of psychedelics towards greater levels of resiliency, mental health, and openness. He is also interested in the investigation of techniques used in the counseling relationship that may deepen and enhance the benefits of psychedelic-assisted therapy integration. He is passionate about opening the doors to psychedelic research to all students that are interested as well as helping to raise awareness as to the responsible clinical applications of psychedelics/entheogens and serves as the administrative assistant for the Source Research Foundation. He hopes to continue on to a PhD to help develop evidence-based practices for psychedelic-assisted therapy integration to empower individuals to make lasting positive change in their lives and in their communities. He is also the administrator of
5meodmt.org
, which is a forum dedicated to forming community discussions on harm reduction, integration, and safe practices around 5-MeO-DMT.
---
If you liked this episode, you may enjoy these.
Brian Normand - Microdosing, Amazonia, Psymposia and Horizons Afterparty
Ashley Booth, M.S. - Ayahuasca, DMT, Integration, and Los Angeles
Kyle and Joe - Life, Death, and DMTx