In this episode, Joe interviews "Car Bomb"- the 9-year NHL veteran, 2-time Stanley Cup winner (as a member of the Chicago Blackhawks), founder of The Chapter Five Foundation (an organization helping athletes transition into post-sports life), and advocate for the healing power of psilocybin, Daniel Carcillo.
Carcillo tells the story of his struggles and depression brought on from post-hockey life transition, 7 diagnosed concussions, and the death of his good friend and fellow player, Steve Montador, who struggled with similar issues before his sudden death in 2015. He talks about the stress of pro sports and the cult-like, team-first attitude in hockey, the hazing athletes experience coming up, the causes and effects of yelling coaches and a "be better" attitude, and how his post-hockey work and speaking out has ostracized him from the community while many people are reaching out to him for help behind the scenes.
His first hero dose of psilocybin forever changed his life, but it wasn't just psilocybin- he's done a lot in the 5 years since that first ceremony, from neurofeedback, acupuncture, deprivation tanks, and using a gyrostim, to regularly microdosing, taking medicinal mushrooms like lion's mane and reishi, meditating, starting a CBD and supplements company, and growing huge crops of cannabis. He talks about how this has all helped improve his life and his relationships with his family, and what he hopes to do with his Chapter Five Foundation and beyond- researching more into what worked for him and developing a protocol/regiment to help people affected by concussions, post-concussive syndrome, TBIs, CTE, or just those struggling with what to do after sports.
Notable Quotes
"I'm an advocate for everything, for all tiers. I'm an advocate for the Decrim Nature [model] because it's a lower-tier model to get people this medicine, and then I'm an advocate for the clinical model that people are pushing forward in Oregon, and I'm an advocate for these big pharma/biotech companies coming out and researching. ...You really have to make sure that we're doing it the right way, and I think a lot of the companies out there are, so I think there's such an opportunity at the ground floor right now to really get in, and if you have something that's proven, that's worked (like we do), then I really, really just feel so passionately about furthering that type of research, to again, get millions of people this type of treatment and this type of option."

"It's still kind of unbelievable when I begin to talk about it, kind of what I've set in motion, but I believe in it so much and I'm still really in awe of what this medicine has done for me. We have one life to live. How do I help the most people that I can?"
"I just had to adjust my whole perspective and thinking and how I spoke to myself, changing the negative motivation to positive. But it's constant work, because I'm just so used to being yelled at and then [being negative towards myself]. It's definitely one of the biggest shifts that I've had, and I had that shift- that was at 2 and a half months after that big ceremony. That's where I knew- that's what really convinced me, and I'll never forget this: I was driving out to my plants and they were about, I don't know, 3 feet tall, and we were about 2 and a half months in, and I was like, 'Wow Dan, really good job.' I had this voice say that and I was like, 'What the hell was that? Where did that come from?' I've never done that, ever, and I was like 'Ohhh man, something happened. Something shifted.'"
Links
Madeplanthealth.com (his CBD and supplement company)
Psymposia.com: Chicago could become largest city to Decriminalize Entheogenic Plants
Yahoo Sports: NHL pins Steve Montador's fatal brain injuries on his 'own lack of due care'
US Patent 6630507: The US Government's Cannabis Patent
Parkinsonsnewstoday.com: Silo Pharma Plans Phase 2B Trial Testing Low-dose Psychedelics in Parkinson's
Del Jolly's Psychedelics Today episode (lots of concussion and TBI talk)
---
About Daniel Carcillo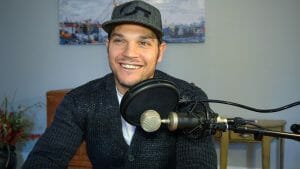 Daniel Carcillo is a two time Stanley Cup Champion and played 9 seasons in the National Hockey League. Daniel experienced emotional, sexual and physical trauma within hockey's culture and battled mental health and addiction issues during and post career. When he retired in 2015, after sustaining 7 concussions and due to Post Concussion Syndrome, he founded Chapter 5 Foundation, a charitable organization that helps athletes transition into life after the game. Daniel struggled with PCS symptoms like light sensitivity, slurred speech, insomnia, headaches and head pressure, impulse control issues, anxiety, depression and suicidal thoughts and traditional treatments did not work. Daniel brought forth the Decriminalize Nature resolution to the city of Chicago, sits on the Decriminalize Nature National Advisory Board & the board of the Heroic Hearts Project, a registered 501(c)(3) non profit that connects military veterans struggling with mental trauma to ayahuasca therapy retreats. Daniel has recently founded Made Therapeutics, a life sciences company that is researching loading and maintenance doses of psilocybin to treat traumatic brain injury, Post Concussion Syndrome, migraines and TBI related anxiety, depression and PTSD. Daniel and Made Therapeutics will be working towards validating the first novel care option for TBI survivors through Health Canada (IMPD) and FDA (IND) clinical trials, with Pre-IMPD & Pre-IND meetings set to establish a pathway forward to fast track status for traumatic brain injury.

Support the show