Download
During this episode of Psychedelics Today, Kyle Buller interviews Dr. Richard Grossman, an ayahuasca ceremony facilitator and expert with a background in healing and acupuncture.
Episode Quotes
I find mystical poetry to be an amazing aid in ceremony work.
Is it the vision or the emotion that you feel and then the vision comes?
In my work, the psychedelic experience is about going beyond the visionary state.
The core of all creation is in the heart and breath.
---

---
Show Notes
About Dr. Richard Grossman

Has a long background in healing.
He used to be a macrobiotic chef.
Primeval meditations and licensed acupuncturist.
Works with ayahuasca and San Pedro.

How did Richard get involved in ayahuasca?

A friend brought some up from Peru and his life changed in one night.
It took him years as an acupuncturist learning more about healing.
He's been doing this for about thirty years.

Do you integrate your acupuncture practice into ceremony?

Not so much with ayahuasca - that's done traditionally.
He had a lot of experience with the Shipibo Tradition.
With the San Pedro method, the body change happens in one day.

Opinions on psychedelic visions.

Many people want them and they're a distraction.
The real thing is that the source of everything is within.
If a person can experience that for an instant, their life changes.
There are a lot of things happening on subtle levels.
The psychonaut and healing processes are quite different.

What are some examples of ideas you've seen in the psychedelic community?

People trying to draw in gods and goddesses.
You need to see how deep a human being can go, it's an infinite journey.

What is it like to go deeper and deeper?

If you can imagine a series of curtains parting over and over and over again.
You begin to see places of illusion.
During one of his trips, he visualized himself in a Nazi concentration camp.

A voice told him to trust and forgive.
He began to question what forgiveness and trust mean.

Some people are seeking spirituality and not really healing within.

Ayahuasca tourism is a fairly good thing, rather than people coming and ruining the jungle.

How would you define a healing process?

It's a complex subject, he likes the idea of a series of concentric circles.

Do you work with a person's energy?

People get very relaxed.
If there is someone who can't get relax he calms them with acupuncture.

Do you think intoxicants affects the chi?

San Pedro or ayahuasca are not considered intoxicants.
He sees that ayahuasca is only good for the body.
Psilocybin has a rough effect on the liver.
The tannins in ayahuasca are valuable and bind toxins in the body.

Do you have to worry about any cardiovascular problems?

It is a stimulant so he screens people before doing the ceremony.
Beauty is a healing process, beauty heals.

Is there anything you're excited about in the psychedelic world?

When the community comes together to heal it's powerful.
We're all going to a place of more love, peace, joy, and healing.
What's the outcome of thousands of people experiencing love and joy?

What's the ayahuasca ceremony structure?

Constant music, keeping things from going totally wonky.
There's a point in the ceremony that it could go in either direction:

Total group insanity or total group healing.

Iowaska ceremonies can be dangerous.

It's something to be respected with its own spirit.

You must hold close to the traditions of generations.
There's always a point during the ceremony where he feels it's the most important and beautiful place he's ever been.
Drama's not necessary, our culture wants the drama.
We need to outgrow externalizing the blame.
Life in our heart is meant to be enjoyed.
Suffering to heal just doesn't work.

Culture seems to dwell on suffering, is that conditioning?

The worst thing a human can possibly do is feeling guilty.

"Guilt can't fly and God wants you to fly."

The nature of reality is joy and love.
You need to be willing to let go of the things that don't work.
Psychedelics can be used as a guiding light.

Any final advice, events?

Find him on his website or on Facebook.
Heartfeather.com - Dr. Richard Grossman's website.
Don't stop, just keep going.
---
Sign up for our free course, "Introduction to Psychedelics"
---
About Richard Grossman, L.AC., O.M.D., Ph.D.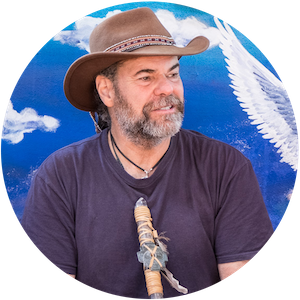 Richard Grossman studied Oriental Medicine at the California Acupuncture College in Los Angeles and received his post-graduate acupuncture training in Beijing, in a course sponsored by the World Health Organization and attended by physicians from around the world. He earned a Masters in Acupuncture, a Doctor of Oriental Medicine degree, a Ph.D. in Oriental Medicine, a Diplomat in Acupuncture, a Diplomat of Pain Management, and a Diplomat in Acupuncture Orthopedics.